VideoPlaces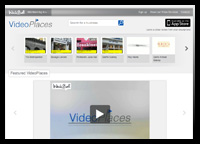 Working for Correspondent Corp, we played a large part in building this video based business directory website. This site allows existing and potential customers to watch featured videos for a business, look at product videos and leave video reviews and ratings. The site also includes administraton areas for business owners and site administrators.
The site backend was built primarily in Java and Scala making heavy use of the Spring framework: MVC, Data JPA and Security. Interestingly the site is the first site to use new WinkBall SOAP API allowing us to minimise the site code and maximise development speed. It also allows for a single sign on experience allowing users to login using their winkball.com account. At the time of writing our server side unit tests cover over 92% of the code base.
Frontend wise, the site of course is making use of Modernizr and HTML5 boilerplate and is built in a mobile first manner using LESS CSS, jQuery and the (unfortunately now deprecated) jQuery Templates plugin.